WERE YOU IMPACTED BY HURRICANE FLORENCE?
If you are an ACTIVE NARFE MEMBER and reside in North Carolina, YOU may be eligible for an UP-TO $500 NARFE FEEA Grant.
If you want to see if your are eligible, CLICK on the icon below to go to the FEEA website
GRANT APPLICATION INSTRUCTIONS ARE ALSO VIEWABLE  BELOW
FEEA
GRANTS
Eligible Grant Expenses:
• Major home repairs (not covered by insurance or other disaster aid)
• Temporary lodging due to displacement
• Replacement beds (mattresses and box springs damaged in the natural disaster)
LOANS
Eligible Hardships:
In order to be eligible for a loan, the federal employee must have suffered one of the following hardships within the three months preceding the loan application:
• Severe illness, injury, or emergency dental work of employee
• Severe illness or injury of employee's immediate family member
• Death of employee's immediate family member
• Major loss/damage to primary residence due to disaster such as fire, flood, or hurricane
• Victim of domestic violence with immediate need for safe housing
Immediate family members, for purposes of this program, include the federal employee's parent, sibling, child, or legal dependent or legal spouse.
FEEA's disaster relief program lends a helping hand to feds when natural disasters strike. During our 30-year history, we've helped more than 10,000 federal families replace drywall and flooring, fix roofs, buy new beds, and pay for temporary lodging. This year, hurricanes brought down a lot of trees, and FEEA grants assisted with removal and roof repairs.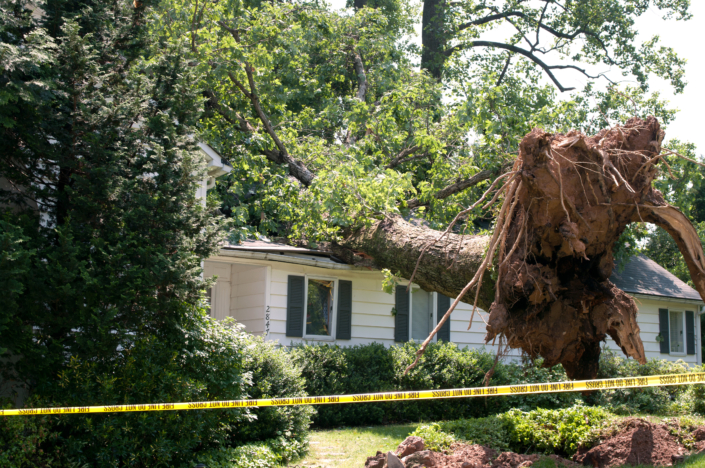 Meet Alex*. Alex is a federal employee in South Carolina who needed a new roof after Hurricane Florence uprooted multiple trees and sent them right onto his house. Thanks to donors like you, FEEA was able to offer Alex a grant to help repair his roof before winter.
NARFE-FEEA GRANT APPLICATION INFORMATION
CLICK ON CROSSED ARROWS TO VIEW
CLICK ON ESC TO CLOSE
NARFE-FEEA LOAN APPLICATION INFORMATION
CLICK ON CROSSED ARROWS TO VIEW
CLICK ON ESC TO CLOSE